Introducing Sulwhasoo in Singapore - A Legacy of Traditional Korean Beauty Wisdom
[Products intro/Price list]
Sulwhasoo
Korea's No.1 Brand arrives in Singapore. Long favored in Korea for its unparalleled use of traditional energy-balancing preparations and holistic approach to skincare, Sulwhasoo introduces a completely new category of beauty care.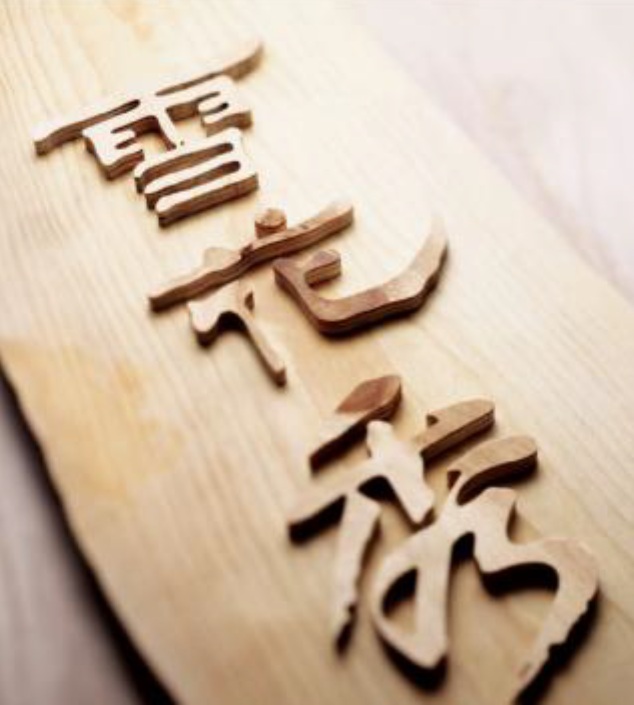 Available in Singapore for the first time,
Sulwhasoo
offers Singaporean women unprecedented access to the beauty secrets of the east, allowing women to tap into the benefits of the pioneering brand's holistic methods. The highly coveted collection is synonymous with skincare, boasting more than half the herbal medicine cosmetics market share in Korea and ranked #1 nationally.
Sulwhasoo is the Korean translation of the snowflower which is known to bloom even under the most severe circumstances.
Sulwhasoo represents and celebrates women's beauty and inner strength.
A Luxury Holistic Brand blending indigenous medicinal herbs through traditional Korean methods. Sulwhasoo draws on ancient wisdom to balance the inner energies that contribute to a nourished, healthy complexion.
The sought-after Korean skincare brand elicits the innate benefits of herbal remedies and time-honored preparations by blending fresh indigenous ingredients in an optimal balance, promoting vitality and youthful skin.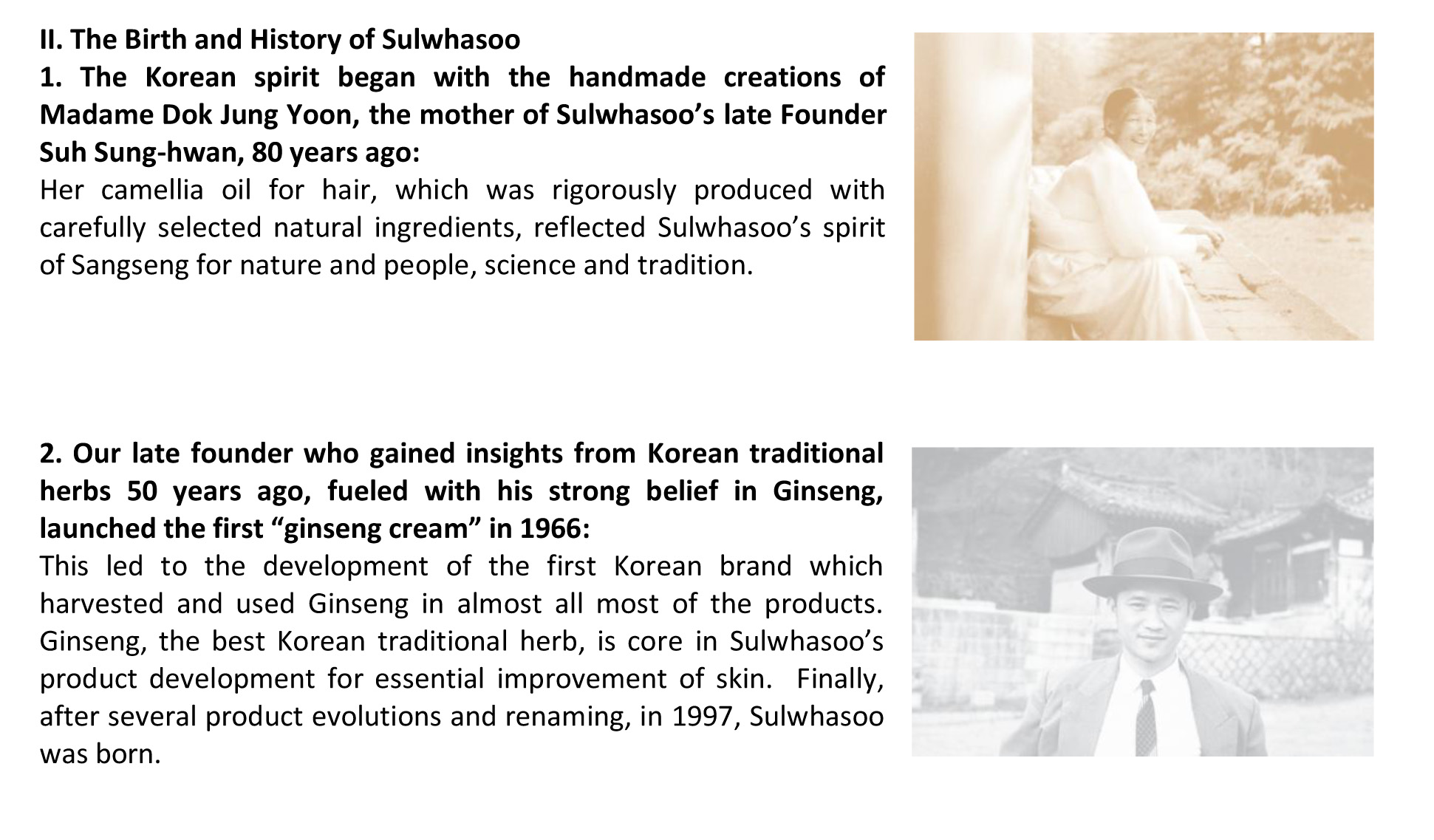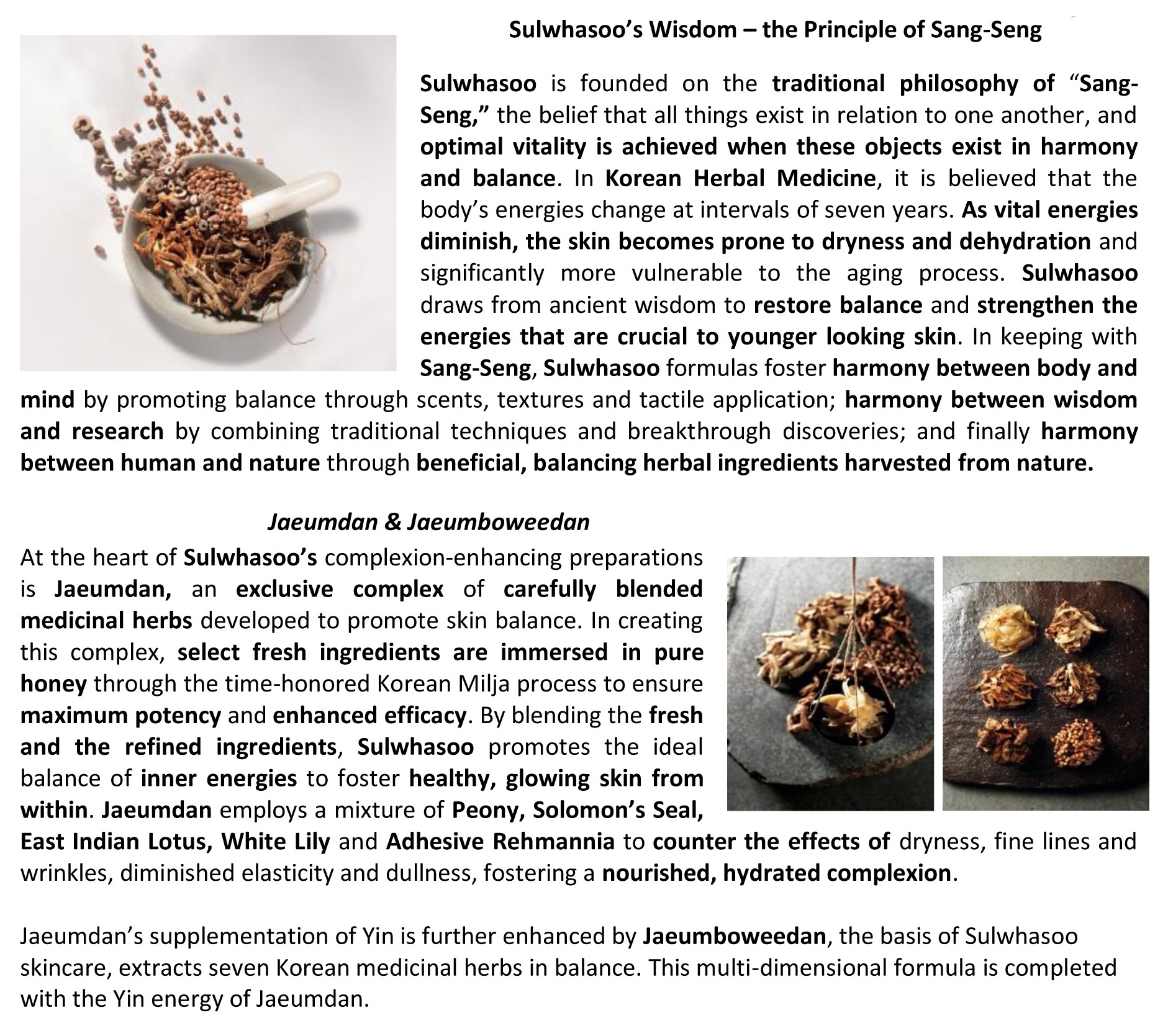 Sulwhasoo's Major Ingredient- Ginseng
Regarded as the best traditional herb in Korea, the Korean Ginseng is more superior than those grown in U.S. and China. Sulwhasoo's roots began in 1966, when its late founder launched the first 'ginseng cream'. Since then, this 'miraculous' herb is core inSulwhasoo's product development for skin rejuvenation and refinement.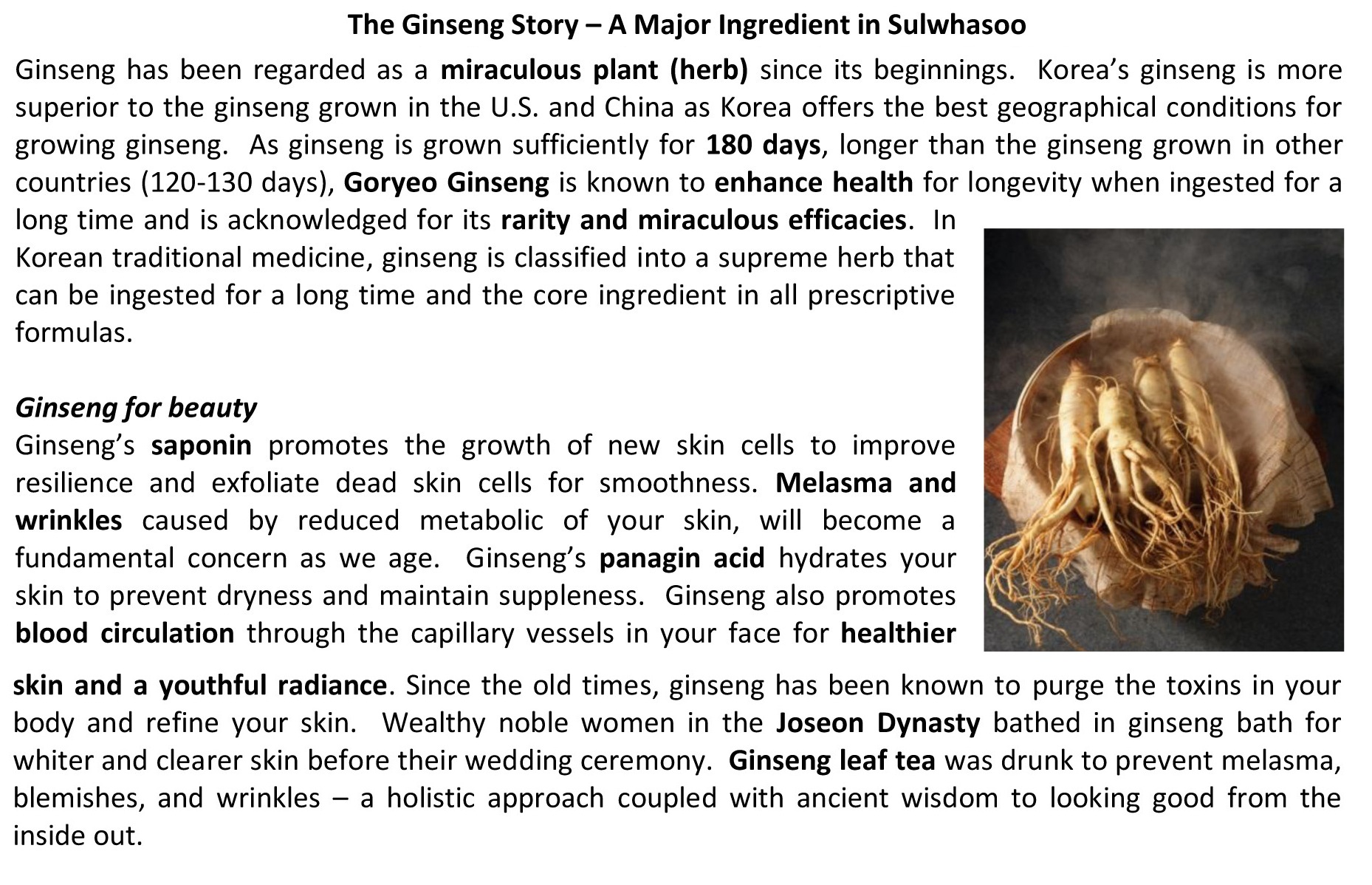 The Poje Method – A Korean Tradition
The wisdom of Korean traditional medicine considers the harmony of Yin and Yang and is not limited to one dimension. From the wisdom of Sang-Seng, the fundamental spirit of Sulwhasoo, to the theory of Korean traditional herbal skincare, to the Poje method applied to match the characteristics and efficacies of ingredients, Sulwhasoo deploys only the core of multi-dimensional Korean herbal medicinal skincare science.
Korean herbal medicinal formula achieves the best effects when fresh and treated ingredients are adequately blended, Sulwhasoo has adopted the Poje Method to maximize even the hidden efficacies of ingredients which are baked, steamed, fermented, or vinegared are detoxified, enriched, or preserved for a longer period of time.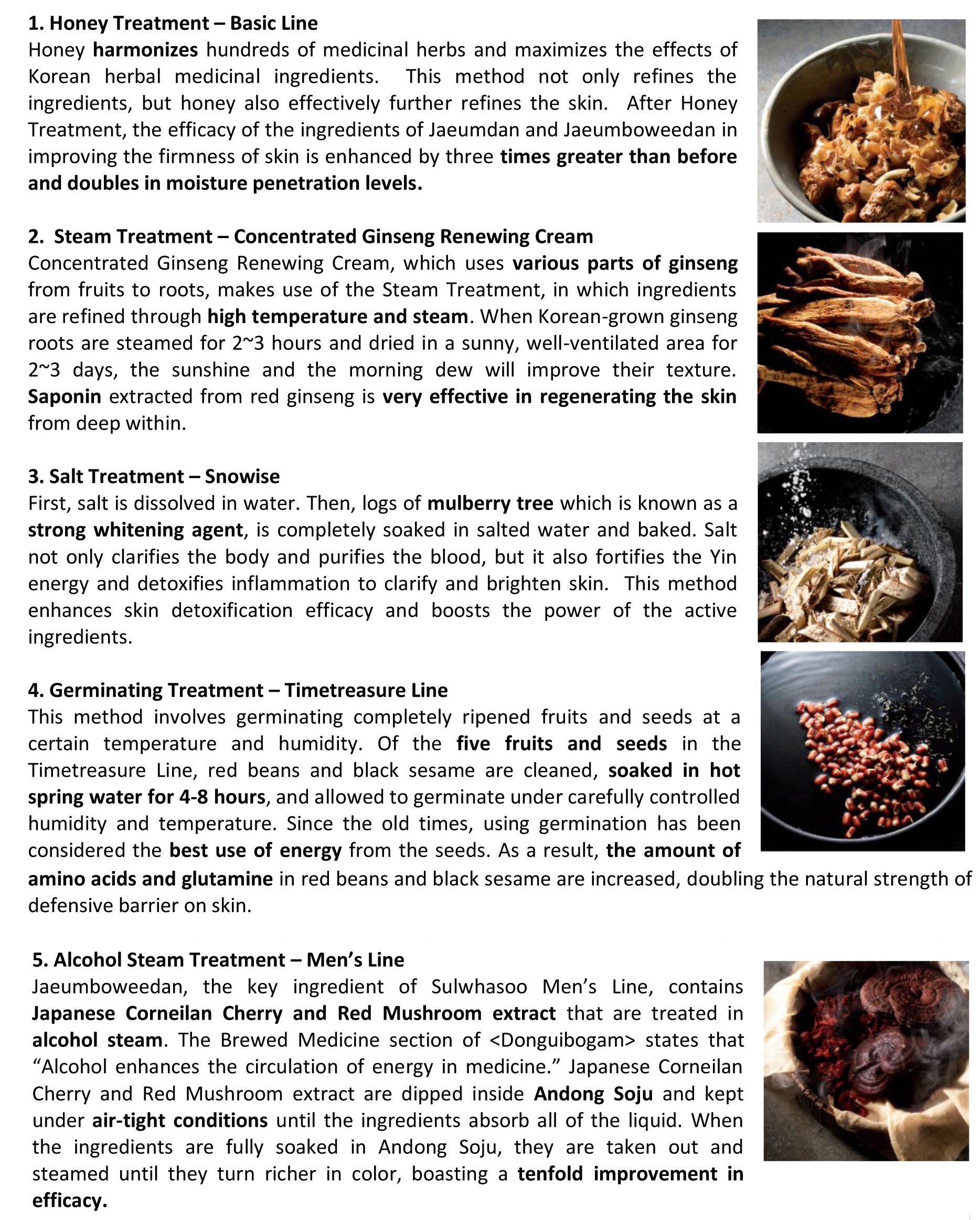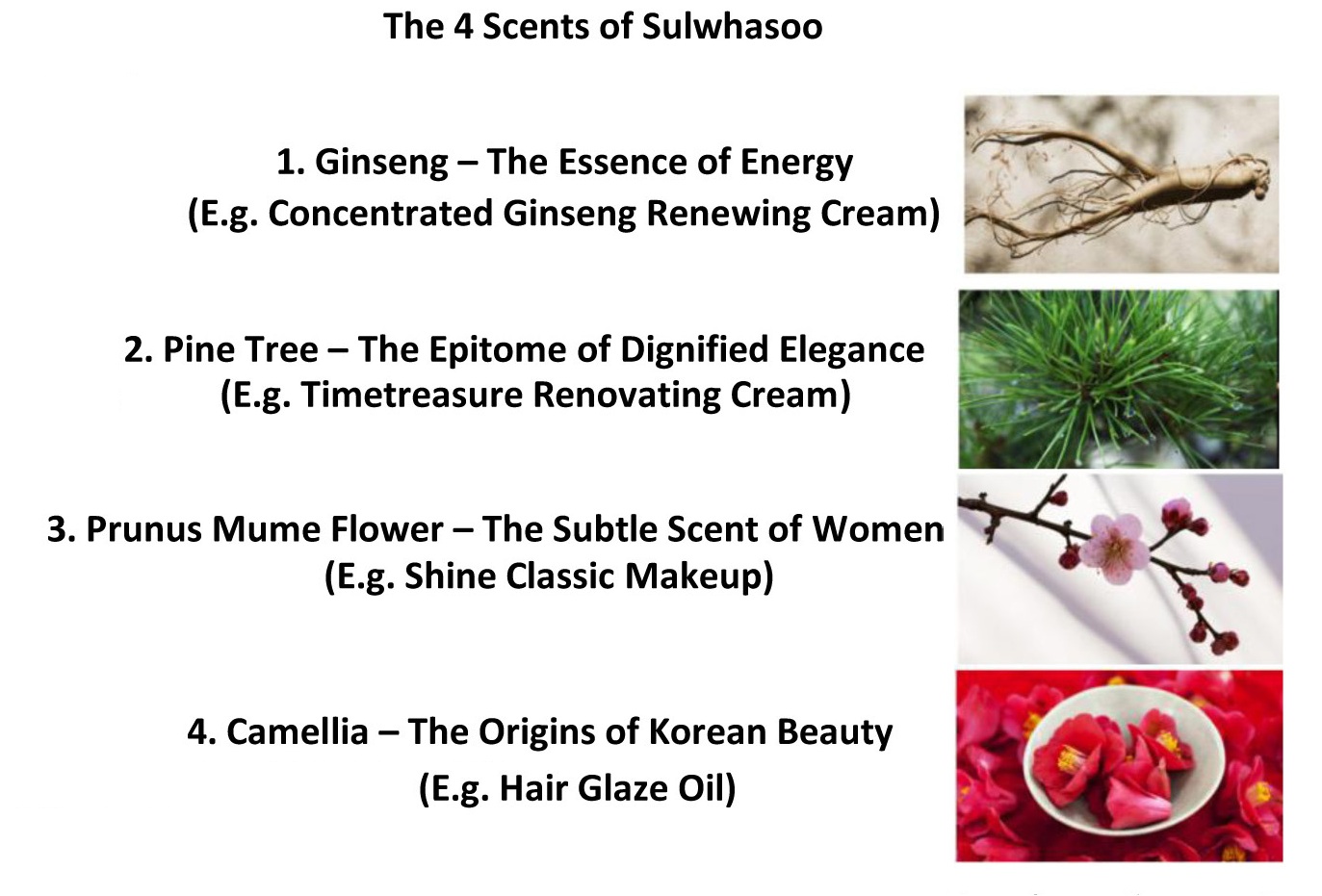 Sulwhasoo's #1 Bestseller

First Care Activating Serum (SD$106 60ml)
Since its introduction in 1997, the First Care Activating Serum has risen to be the #1 bestseller in Korea with 9 bottles sold every minute. Used as the first step of the skincare regimen, this serum is formulated with Milkvetch to promote skin circulation, Dwarf Lilyturf and Licorice to boost and synergize the efficacy of the products used after it.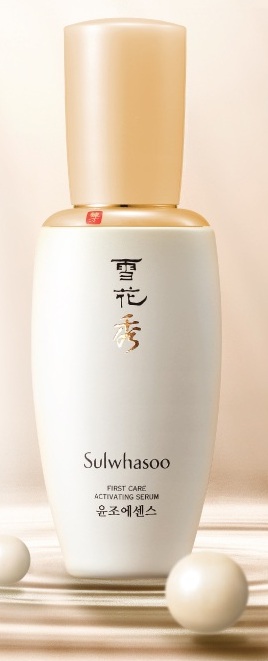 First Care Activating Serum (limited edition) – Tribute to TANGS (SD$140 90ml)
In celebration of TANGS' 80th anniversary, Sulwhasoo is launching a limited edition range of bestseller First Care Activating Serum that features the Singapore's iconic
TANGS Plaza
. This star product, in which 9 bottles are sold every minute, will come in a bigger bottle...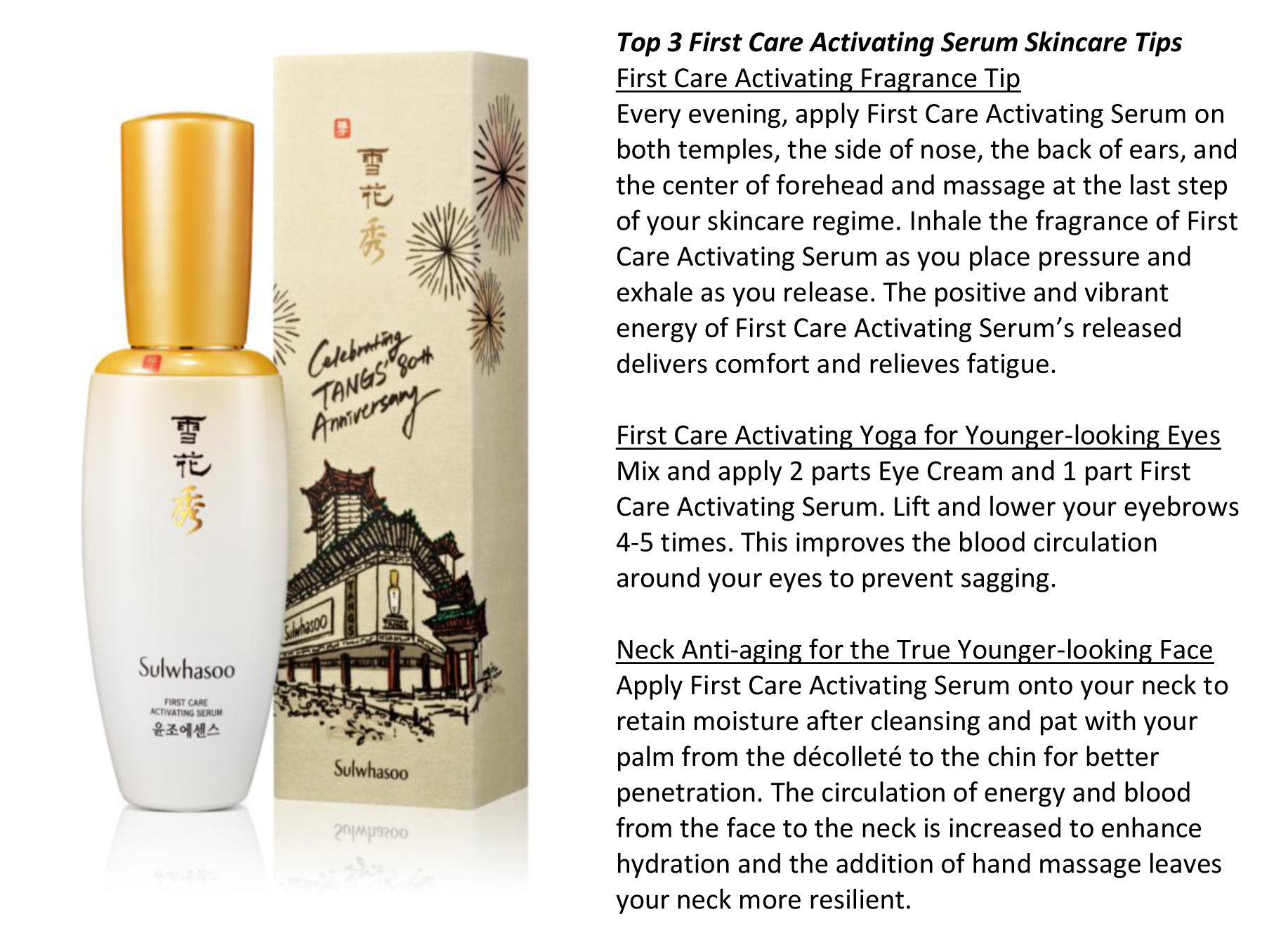 HOLIDAY: The Season of Sharing with Loved Ones
SULWHASOO Essential Holiday Sharing Edition
Price: SD$88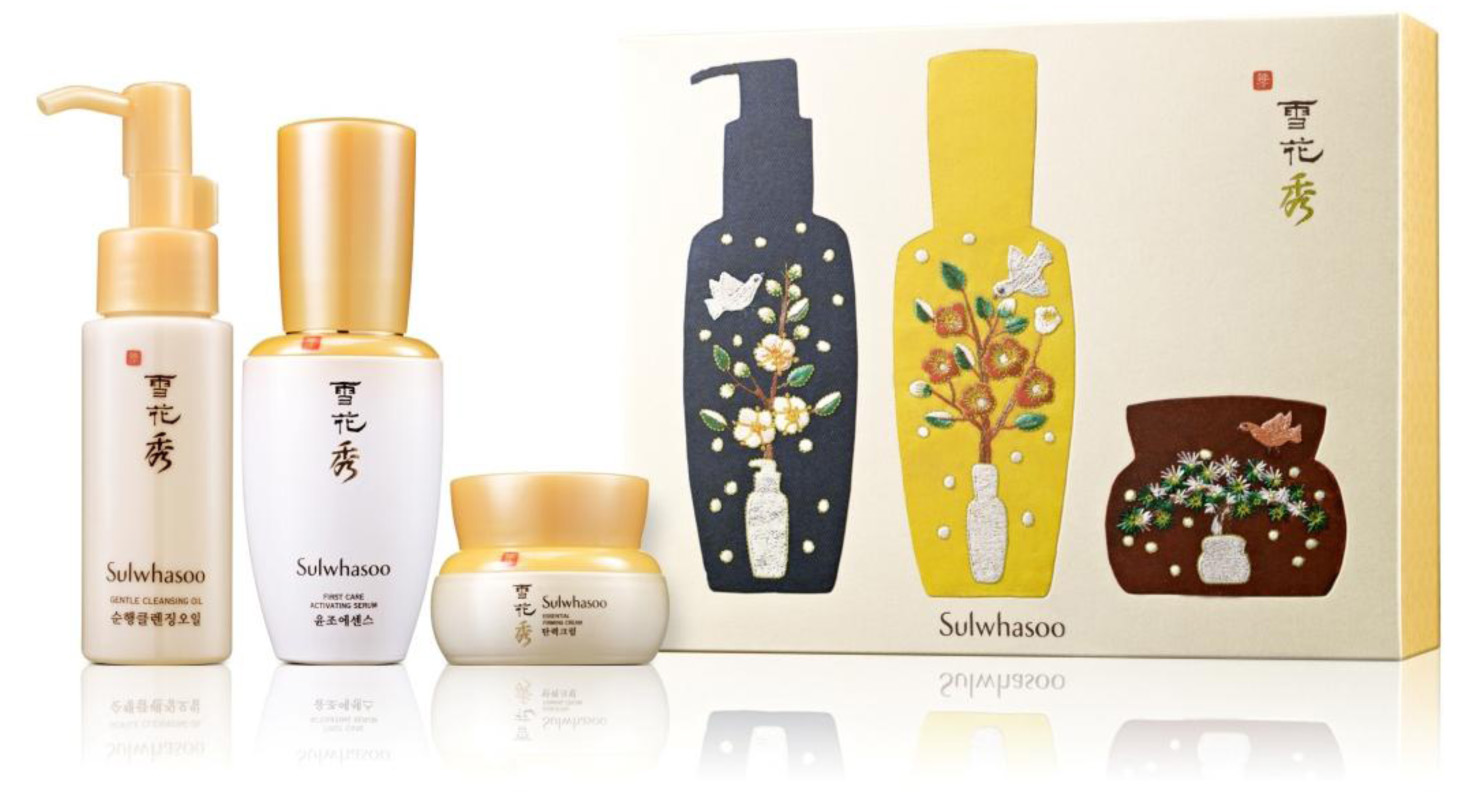 Sulwhasoo Essential Holiday Sharing Limited Edition
consists of travel-sized best-sellers and provides a great opportunity to your loved ones to experience the wisdom of Sulwhasoo at a very special introductory price.
Sulwhasoo Gentle Cleansing Oil 50ml
Sulwhasoo First Care Activating Serum 40ml
Sulwhasoo Essential Firming Cream 25ml
Price List...
Skincare – Cleansing line
Aged in a 40-day curing process, this premium handmade soap is formulated with six-year-old red ginseng and Korean traditional medicine ingredients for a rich, revitalizing foamy lather
Gentle Cleansing Oil (SD$50)
This liquid cleansing oil helps promote clarity by effectively removing impurities as White Birch promotes the skin's natural circulation to restore a healthy glow.
Gentle Cleansing Foam (SD$50)
Prunus Mume Fruit Extract hydrates as Dokudami soothes in this non-stripping cleanser, leaving skin soft, hydrated and radiantly clean.
Skincare – Basic line
First Care Activating Serum (SD$106)
This essential regimen-boosting serum assures optimal skincare results by amplifying the effects of the treatments that follow, promoting balance and replenishing essential moisture via membranous Milkvetch, Licorice and Dwarf Lilyturf
Essential Balancing Water (SD$68)
Purslane hydrates and Matrimony Vine soothes and calms while promoting deep hydration in this skin moisturizing gel-textured toner
Essential Balancing Emulsion (SD$78)
Mountain Peony softens skin texture as Yai Jiu Hua improves skin clarity in this skin-smoothing, moisture-rich emulsion
Essential Rejuvenating Eye Cream (SD$136)
This age-defying eye cream revitalizes delicate skin around the eyes and reduces lines, wrinkles, dark circles and puffiness with six-year-old Korean Red Ginseng Saponin, Yai Jiu Hua and Honey
Essential Firming Cream (SD$108)
This firming and lifting cream restores skin's natural healthy resilience with detoxifying Adlay Millet and restorative, contouring Pomegranate and Ginkgo Biloba
Essential Revitalizing Serum (SD$158)
This skin resurfacing solution refines the skin and improves density via antioxidant-rich Machilus Tree
Skincare – Hydro-aid line
Hydro-aid Moisturizing Lifting Toner (SD$68)
Mulberry extracts gently exfoliate and licorice extracts soothe sensitive skin after cleansing. Supplies ample moisture to the skin
Hydro-aid Moisturizing Lifting Eye Serum (SD$128)
Satsuma Mandarin extracts revitalizes the moisture flow in the skin to firm and brighten the eye area. Instantly reduces puffiness with its cool texture
Hydro-aid Moisturizing Lifting Serum (SD$148)
A Korean medicinal seaweed formula in capsules to deliver active mineral ingredients to deep inside the skin. Bei Xuan Shan extract revitalizes the moisture inside the skin for hydration and recuperation.
Hydro-aid Moisturizing Lifting Cream (SD$132)
Psyllium extract promotes skincell regeneration for hydration and plumpness. The gel-like texture gently spreads on the skin and quickly absorbs to form a skin-friendly moisture barrier.
Hydro-aid Moisturizing Lifting Mist (SD$48)
Purslane instantly moisturizes the skin, while Adhesive Rehmannia quickly relieves stress to comfort the skin.
Hydro-aid Moisturizing Lifting UV Protection Cream (SD$68)
A moisturizing, lifting, UV protection cream formulated with traditional Korean herbs to prevent dehydration, and to promote supple and firm skin. [SPF 50+ / PA+++]
Skincare – Timetreasure line
Timetreasure Perfecting Water (SD$130)
Formulated with Korean medicinal herbs, this water delivers luxurious hydration to the deepest layers of the skin. Red Pine provides deep hydration and is absorbed quickly, leaving the skin soft and smooth
Timetreasure Perfecting Emulsion (SD$150)
This emulsion promotes a soft glow while simultaneously refining skin texture.
Timetreasure Renovating Serum (SD$370)
This serum restores skin's vitality. The concentrate of five germinated mixed seeds and fruits such as Prunus Mume fruit, Azuki-bean, Quince, Korean Pine and Sesame promoting youthful-looking skin and effectively diminishes signs of aging.
Timetreasure Renovating Cream (SD$498)
Formulated with Korean Medicinal Herbs, this luxuriously textured cream promotes youthful, healthy looking skin.
Timetreasure Renovating Eye Cream (SD$310)
An exclusive anti-oxidant complex that helps to improve skin's defense and reduce puffiness. Red Ginseng Saponin reduces the appearance of fine lines and deep wrinkles while creating a protective layer around the delicate eye area, restoring youthful looking skin.
Skincare – Option line
Skin Clarifying Mask (SD$60)
This gentle yet effective peel-off mask restores skin's natural clarity with Small Solomon's Seal Powder, Honey, and Honeysuckle to replenish nourishment, remove impurities and promote clearer, smoother, brighter skin
Overnight Vitalizing Treatment (SD$68)
This overnight mask awakens skin's natural glow with nourishing moisture and herbal extracts like brightening Acutelobed Angelica and Pomegranate as well as restorative Walnut and White Mulberry
Benecircle Massage Cream (SD$96)
Prickly Pears, Japanese Red Pine, Ginkgo Biloba leaf extract restore skin's vitality by promoting skin's natural circulation. This cream spreads softly onto the skin and envelopes the skin in nourishing herbs to boost the massage effects.
Skincare – Body line
Essentrue Body Serum (SD$70)
The natural essential oil complex of Pine Nut Oil, Lotus Fruit Oil, Camellia Oil, Prunus Mume Oil, and Apricot Kernel Oil hydrates dry skin and restores loss of resilience for your body.
Skincare – Men's line
Essential Skin Refiner for Men (SD$84)
This gel-like toner contains Chins Skullcap and Japanese Red Pine extract from Jeongyangdan which calms and soothes the skin following shaving.
Moisturizing Fluid for Men (SD$70)
Ginger Extract from Jeongyangdan nourishes the skin and promotes moisture balance. This fluid delivers effective hydration, leaving the skin soft and smooth.
Energizing Cream for Men (SD$128)
Japanese Corneilan Cherry and Red Mushroom extract of Jeongyangdan help restore vitality and firms skin. Enzyme treated Red Ginseng Saponin effectively reduces lines and wrinkles.
Sun Cream for Men (SD$58)
A powerful sunscreen that protects the skin from optical aging. Absorbs quickly and penetrates without stickiness for a clean, matte finish. Protects the skin from UV rays (SPF 50+, PA+++)
Makeup – Evenfair range
A makeup base that evens and smoothens skin for optimal makeup effect. Contains [UV Protection (SPF 25,PA++)]
Evenfair Foundation (SD$76)
A creamy-soft foundation that gently embraces your skin for subtle radiance. Contains [UV Protection (SPF 25,PA++)]
Evenfair Powder Foundation (SD$86)
Peach Blossom-like Powder diffuses light to leave your skin light and bright all day. Contains [UV Protection (SPF 25,PA++)]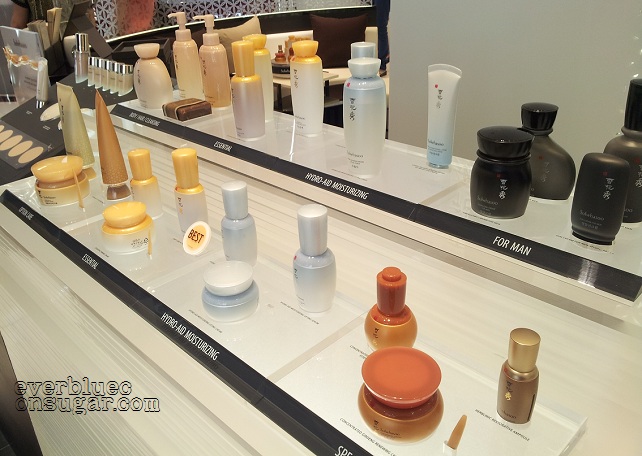 EXCLUSIVELY AT: TANGS ORCHARD, BEAUTY HALL, LEVEL 1
Information and images extracted from Press file