Recently (September 2012), Lancome launched a new addition to their Genifique collection -
Genifique Yeux Light-Pearlᵀᴹ Eye-Illuminating Youth Activator
.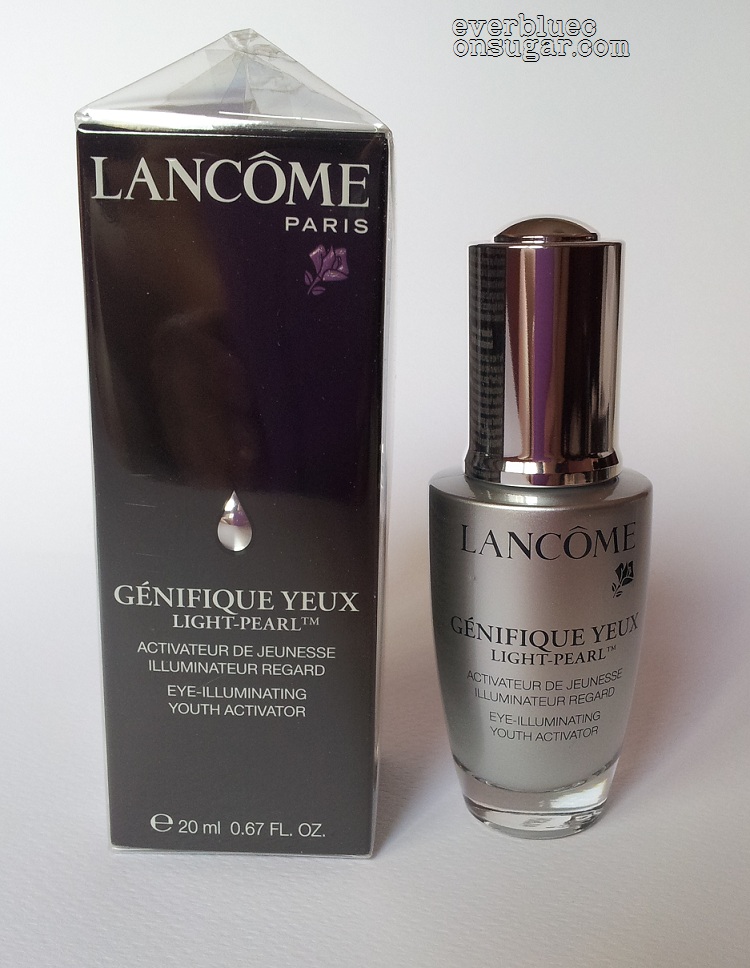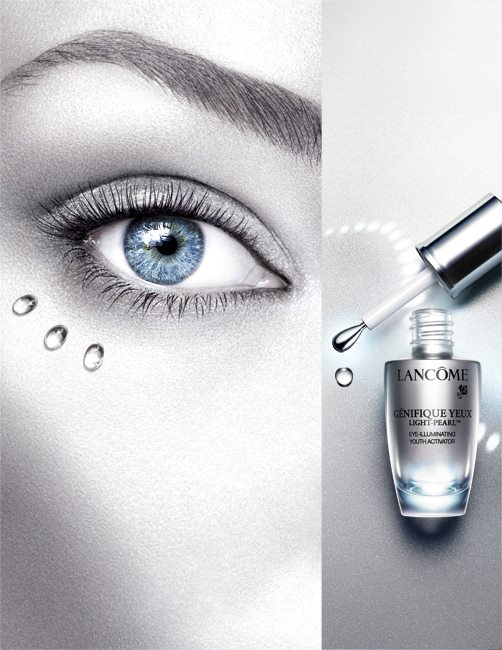 Inspired by gene science, the power of
Genifique Youth Activator
now for eye brightness.
Genifique Yeux Light-Pearlᵀᴹ
, the first Lancome eye-illuminating serum booster engineered with a patented Light-Pearlᵀᴹ, a massaging applicator that amplifies the formula's efficacy.
For the first time,
Lancome
creates a serum combining the science of Genifique with a high performance pearl-shaped applicator to make eyes appear more open. As intuitive as it is seductuve, Genifique Yeux light-pearlᵀᴹ serum revolutionises eye contour care.
Genifique Yeux Light-Pearlᵀᴹ
transforms eyes in 7days.
.
A breakthrough eye serum booster, it represents the first step of the eye beauty ritual.
illuminate eyes with 360° treatment
Dark circles
Puffiness
Winkles
Outstanding results proven on 10 signs of youth
Smoother
De-puffed
Lifted arch of the eyebrow
Brighter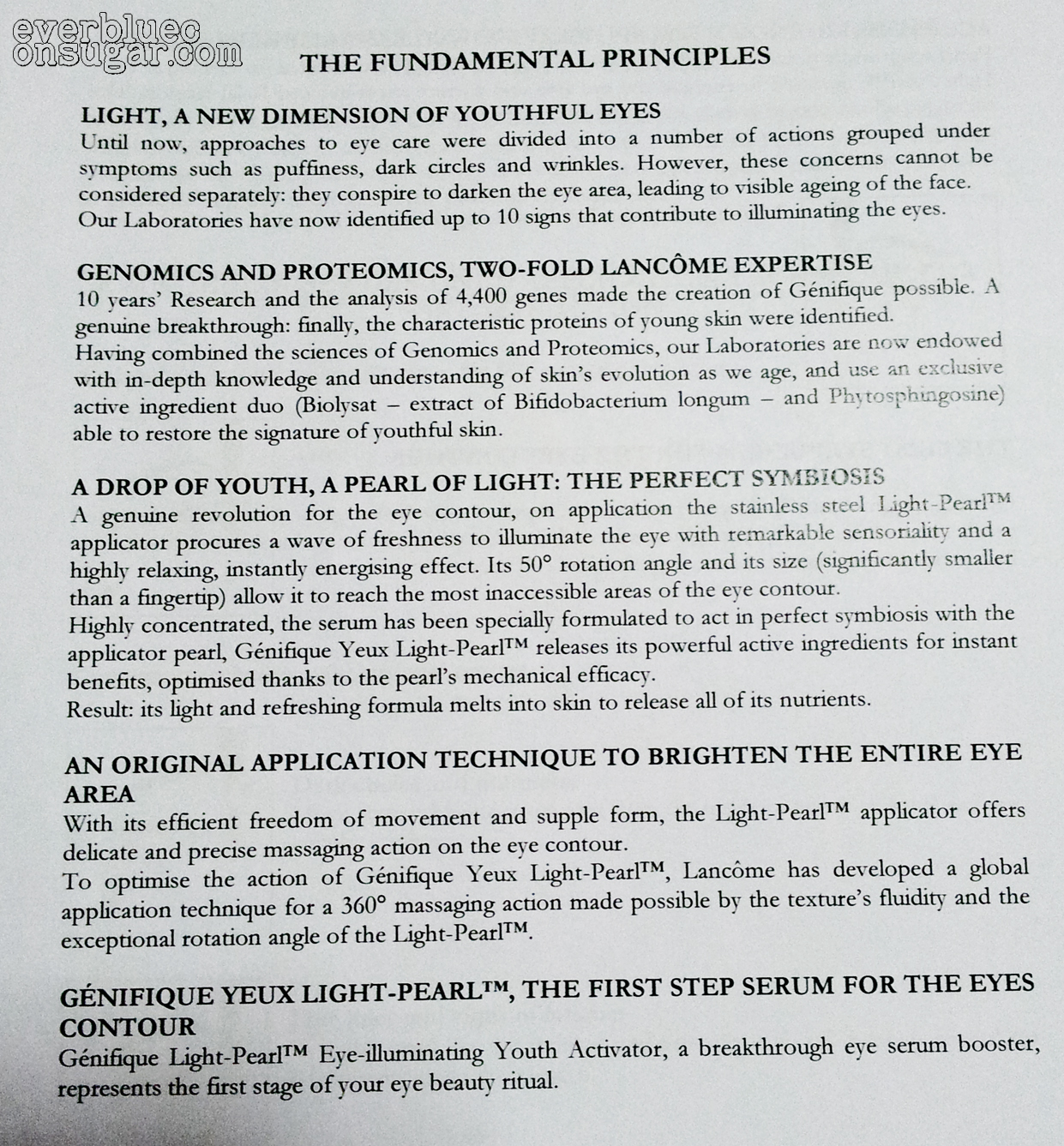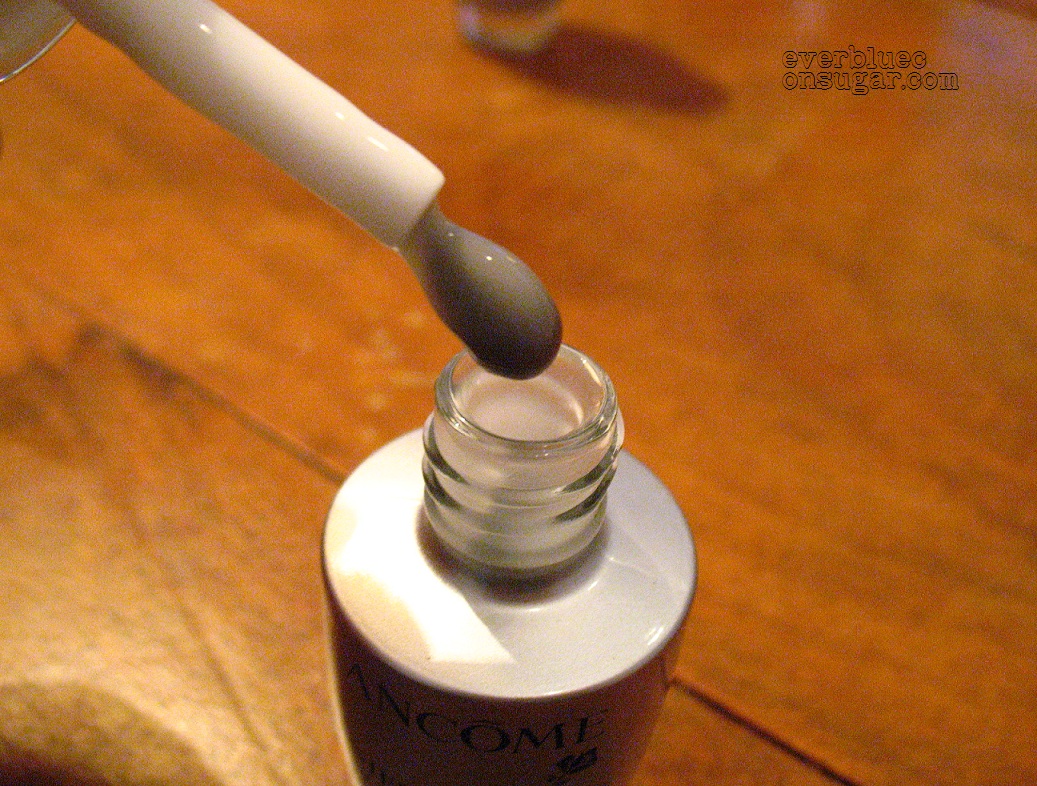 Lancome Laboratories' knowledge, expertise and know-how in the formulation has led to a genuine symbiosis between Genifique Yeux serum and the Light-Pearlᵀᴹ applicator. Light and refreshing, its delicate texture procures a remarkable soft sensation.
The formula is fragrance free, formulated for optimal tolerance. The moment it is applied, the serum is instantly absorbed.
Genifique Yeux Light Pearlᵀᴹ releases its powerful ingredients for instant benefits. Diffusion into the eye contour is optimised because of the mechanical efficacy of the pearl.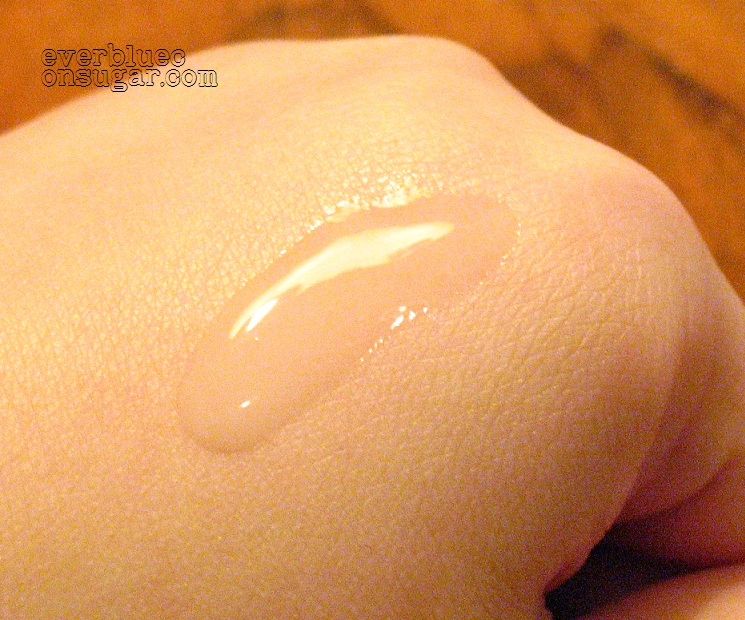 The serum feel really light and watery.. it spread really well and absorbed into the skin quite fast (base on testing it on the back of my hand).
The light-pearlᵀᴹ applicator feel pretty solid yet doesn't feel hard on the skin. On the skin, it feel nice and cooling.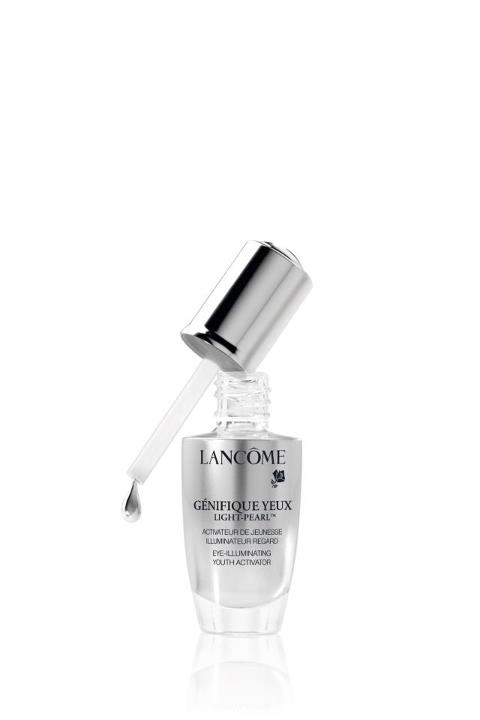 A breakthrough combination of a pearl created with high-tech precision and cutting-edge materials, the Light-Pearlᵀᴹ represents the first of a new generation of applicators.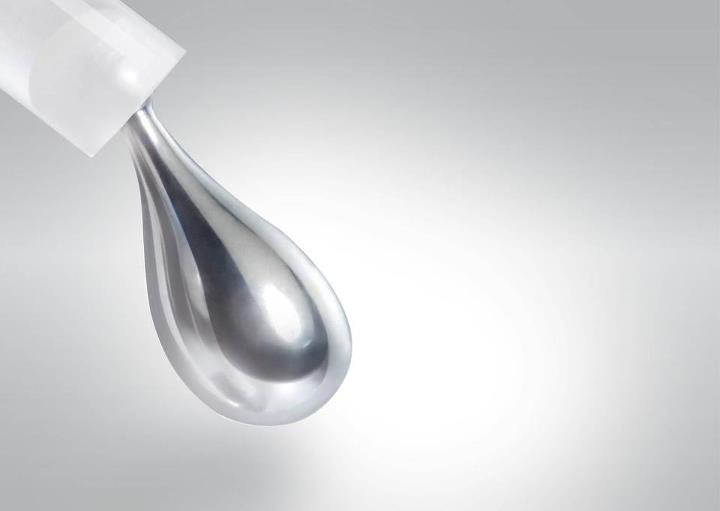 From the surface of immaculate silvery metal emerges a futuristic oblong form chiselled by ceramic and porcelain polishers, then smoothed with diamond powder, to become the perfectly designed applicator pearl.
The material is stainless steel, which is notable used for surgical instruments, due to its hygienic properties. Incredibly soft and smooth, on application the pearl procures a wave of freshness (coolness) to illuminate the eye with remarkable senoriality and highly relaxing, instantly energising effect. As continue application, it adapts to the skin's temperature for evluating with levity.
Lastly, the applicator boasts the unique feature of a 50° rotation angle, allowing for a high degree of suppleness on application, lightly gliding over skin, making it perfectly suited to the eye contour. Offering a unique new sensation, the application technique covers and allows you to massage the entire eye contour.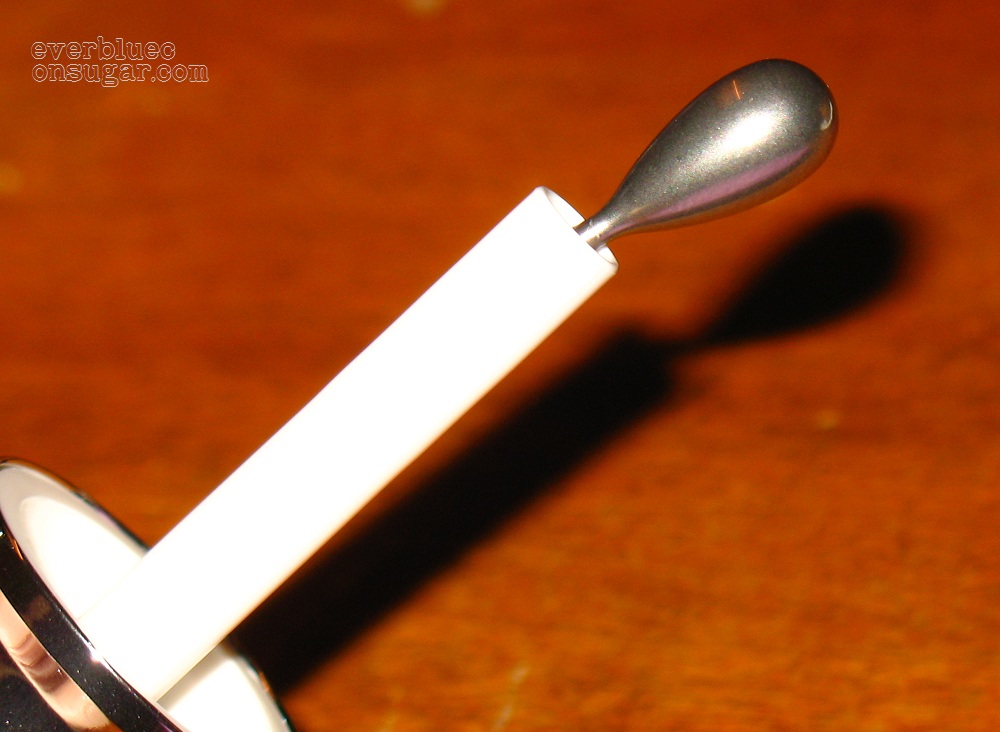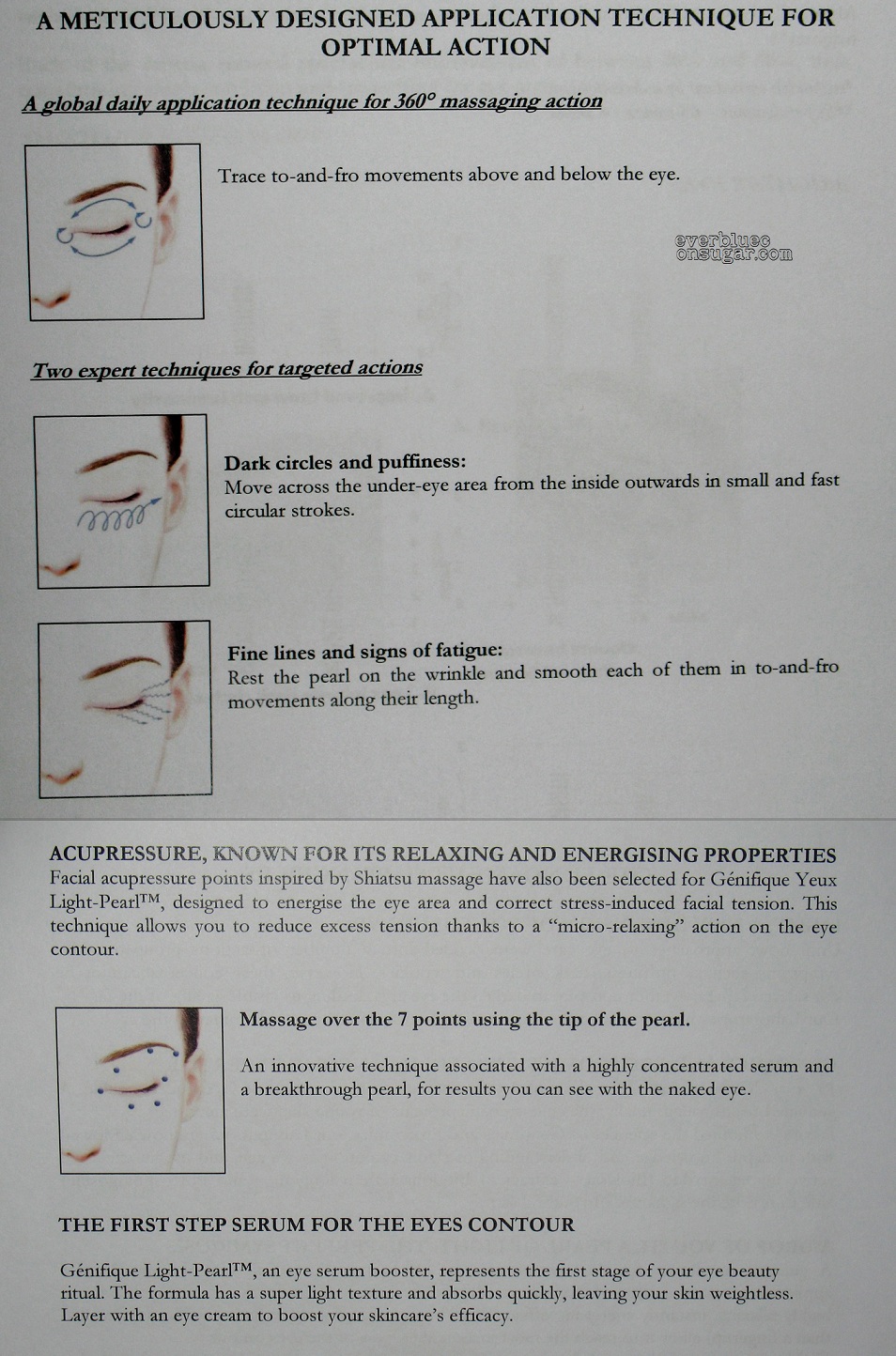 I have been holding myself back from opening this up and start using it. Being a die-hard fan for "eye" products... it's really hard to control the urge for trying new product.
I just start using a new eyecream (Origins eye treatment) not long ago when I received this product (around mid August), so to prevent me from "confusing" the results... I refrain myself from using this serum. Now, it about time for me to start using!! (Yeah~~~)

.
.
Available from 1st September 2012 onwards on all Lancome counters.
Price :: SD$110 [20ml]
.
.
.
Lancome Singapore Facebook Page ::
https://www.facebook.com/lancomesingapore
.
.
Disclosure::
I'm not affiliated with the company.
Product was provided for consideration.
Information and images were extracted from press file and Lancome facebook page