The Face Shop E'thym O2 Water Aura Cream
- A moisturizing cream that gives abundant amount of nutrition to the skin and strengthens the layer on the skin to help the moisture last longer.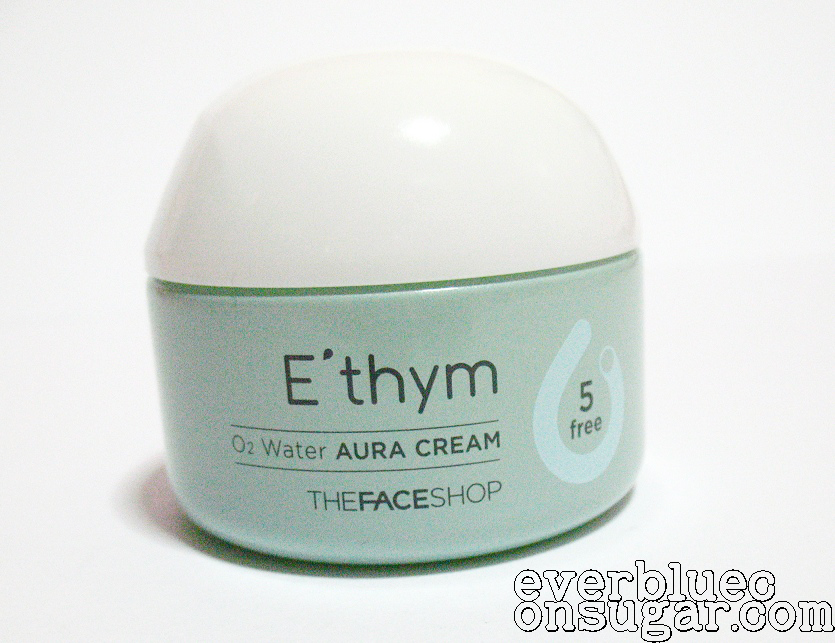 Refreshing hydration line containing natural ingredients with 5 free system and premium oxygen water.
E'thym helps your skin look younger and well-moisturized.
Mineral oil-free
Paraben-free
Benzophenone-free
Artificial colorant-free
Animal origin ingredient-free and premium oxygen water.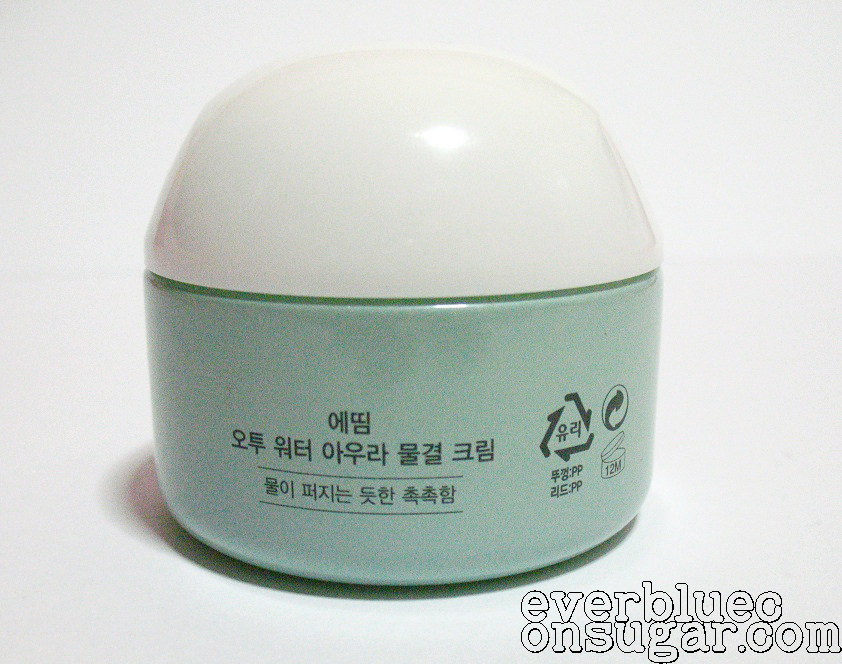 A revitalizing cream for deeply hydrated and vitalized skin like the surface of lapping water
Smoothly spreads and is absorbed without a sticky feeling
A lipidic complex made of Shea Butter and Coconut Butter strengthens skin's moisture barrier and provides sufficient nutrition.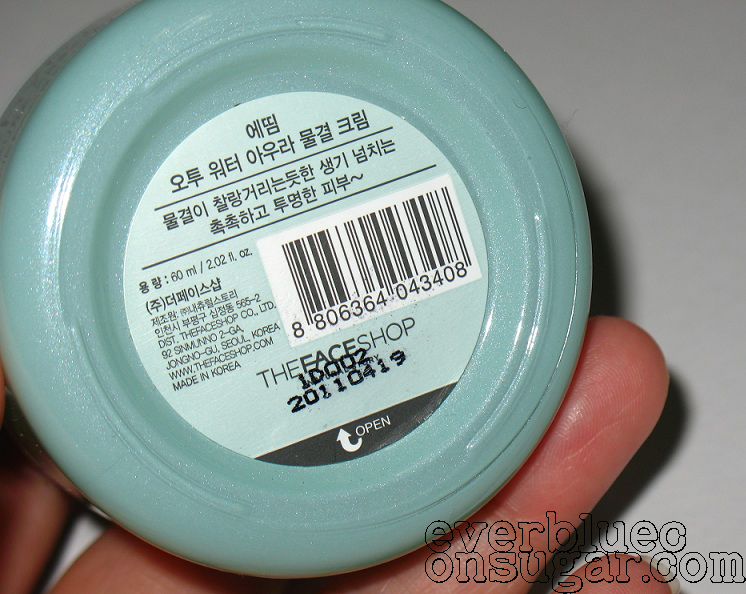 Ingredients list...
[Click to enlarge]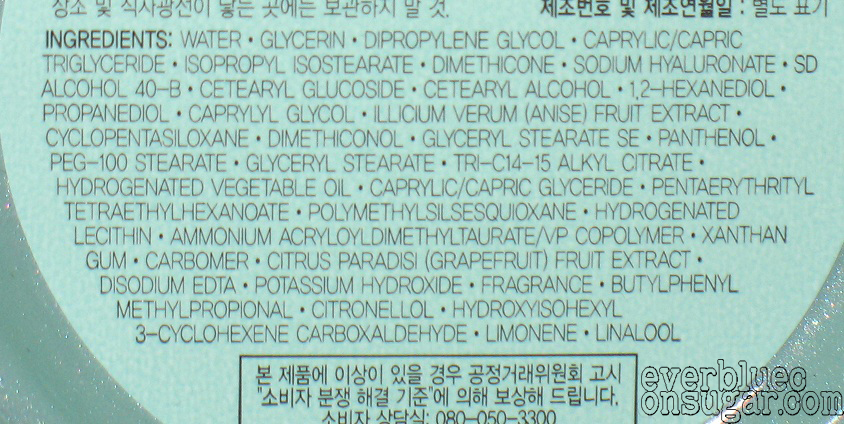 This cream does contain
alcohol
and
fragrance
- But this doesn't cause any irritation or dryness on my normal to oily combination skin.
Luckily, my dry skin phase was over and so far so good, no tightness or flakey skin. (Yeah!! "Dance around waving my hand in the air".)
)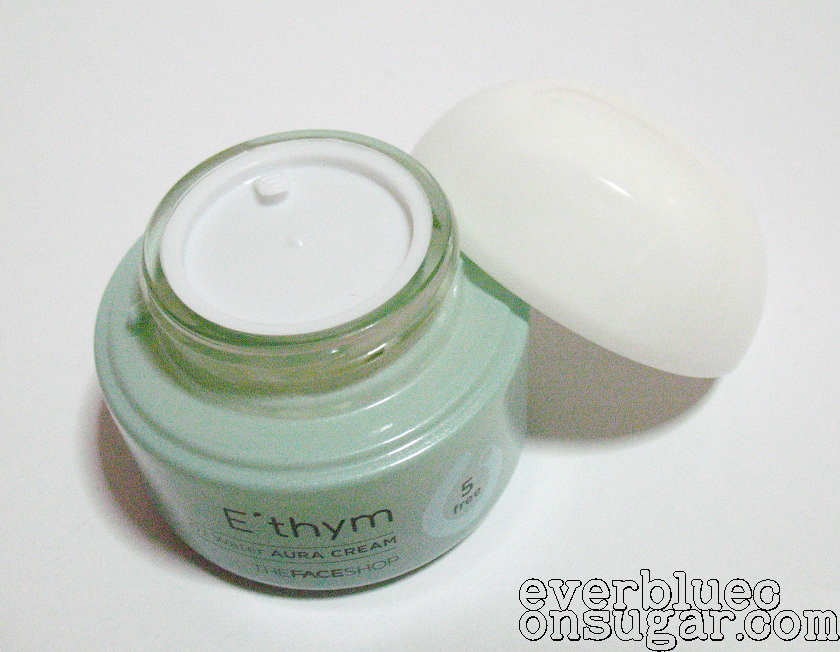 Only left about 1/3 of the products after using it everyday for almost a month.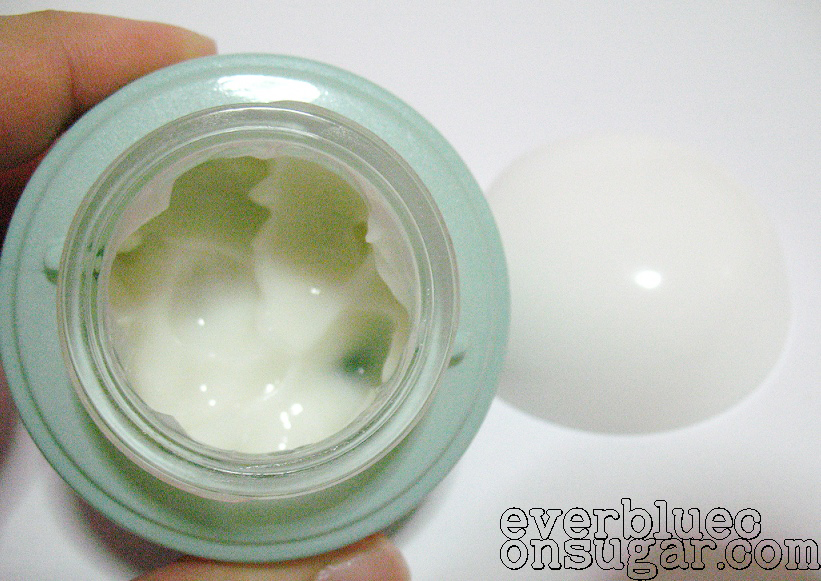 A gel cream moisturizer - very moist gel cream texture.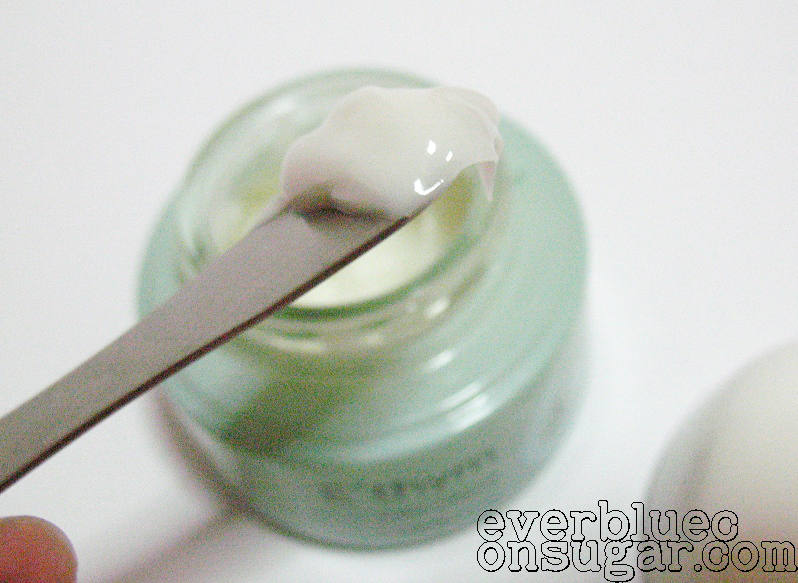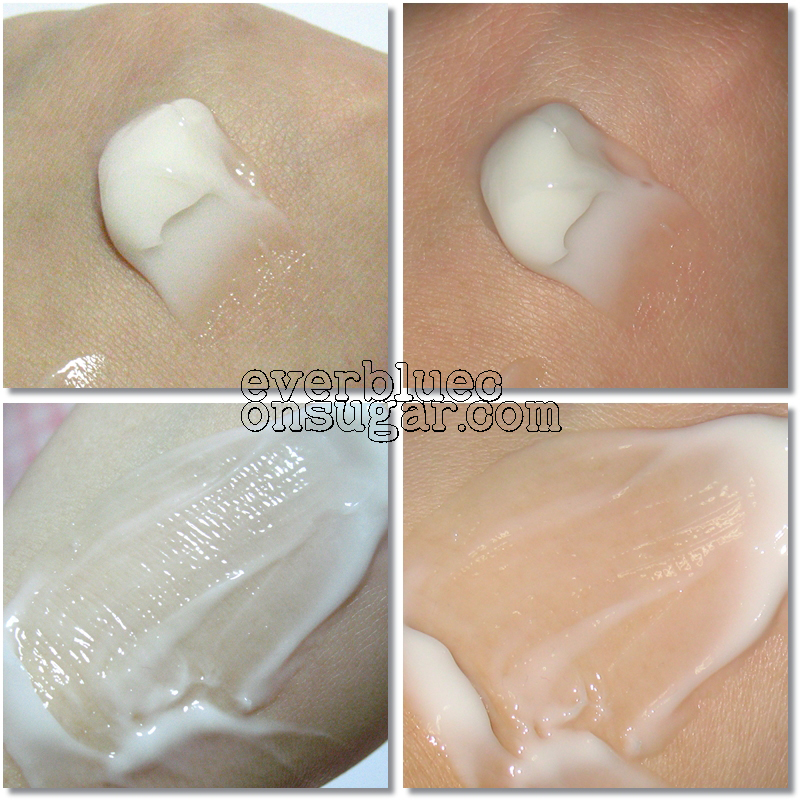 [Note : I put too much on the back of my hand - took some off and apply on my neck (not wasting any product).]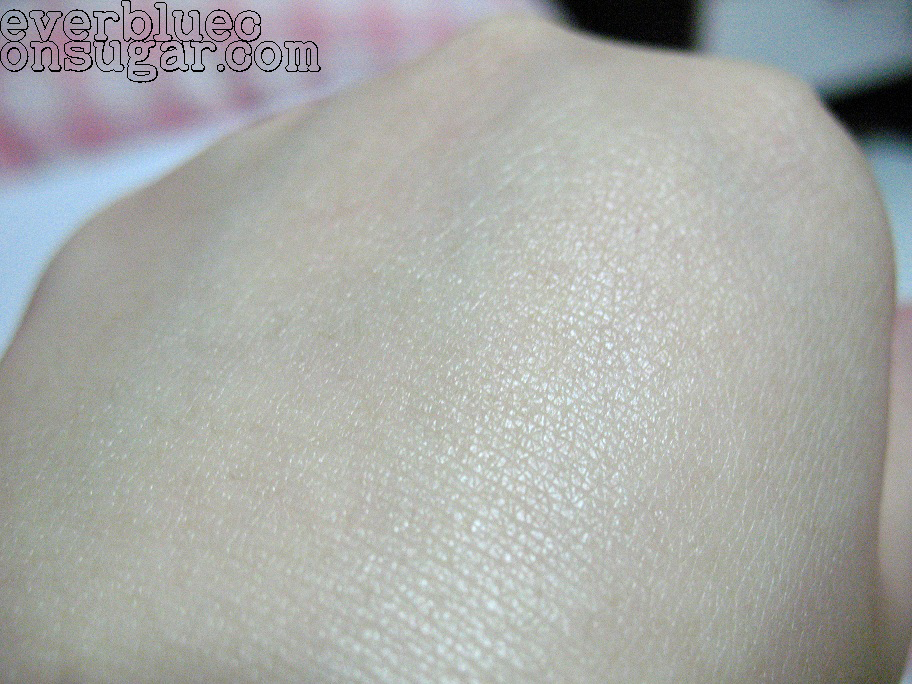 The Face Shop E'thym O2 Water Aura Cream
feel very moist and somewhat creamy... easy to spread out on the skin without dragging the skin.
Normally I will spread it out on my finger tips (I take about 20cent size amount) and pat it onto my skin. Focusing on my drier areas first [skin between my nose and cheek, forehead (cos I have some fine lines there...) and upper cheeks] and slowly patting it all over my face and down to my neck.
The cream feel very smooth (feels abit oily) and it's good for massaging (if you want).
I use this cream twice aday [day and night], I used less amount in the day.
The gel cream doesn't feel sticky
Not oily once it absorbed


Once the cream absorbed, skin feel velvety smooth.

Skin doesn't look oily or have any shine once the cream absorbed.
The gel cream feel pretty light weight.
Skin doesn't feel stuffy when applying the cream
Moisturizing
Doesn't cause any stinging/burning sensation on my face(especially on dry areas)!!!
Doesn't cause any irritation nor breaking out.
Skin feel supple
Very soothing
Skin does look brighter after applying the cream
Have a mild and soft refreshing scent (soft and mild grapefruit scent)
Keep my skin hydrated thru out the night (sleeping in Air-con room)
During the first week of using the
The Face Shop E'thym O2 Water Aura Cream
, I didn't feel any WOW factor, it's just feel like a very moisturizing cream moisturizer. It hydrate my skin very well, even in air-con room... and not too heavy for normal to combination skin.
BUT...
on the 2nd weeks, my skin start to feel really smooth [Have been using this cream for almost 4 weeks]. I like that the cream smooth out the skin texture. And it does maintain the smoothness.
When I rinse my face the next day, I can feel a layer of moisturizer on my face. The cream does leave a protective layer on the skin surface to prevent skin from drying.
I do take beauty supplement, always on collagen drinks, or any other form of "beauty" fruits, foods, pills or detox supplement. All these just enhance the skincares products that I'm using.
I think everyone need to take care of their skin from inside and out for the radiance glow and healthy skin+body.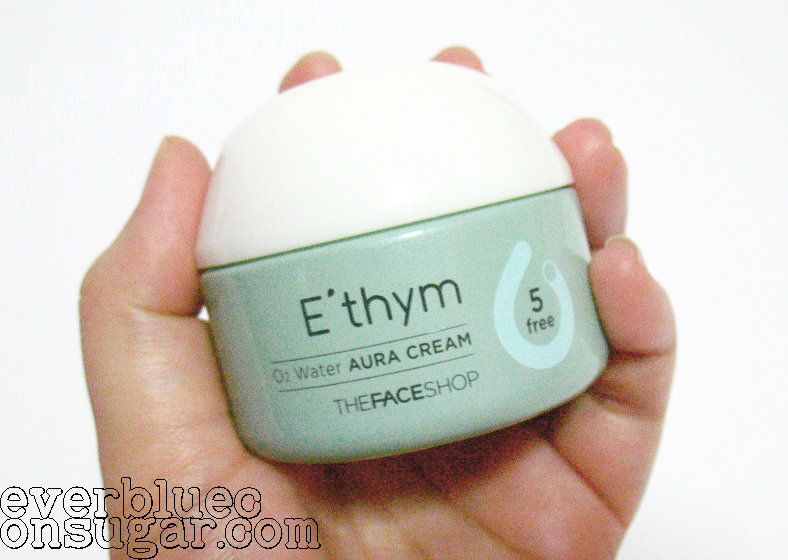 This is a good hydrating moisturizer for normal to combination skin [cos my skin tend to feel dry and tight sometimes.]
For dry skin, If you think that this is not moisturizing enough, you can add on serum/essence to enhance the hydratiion level.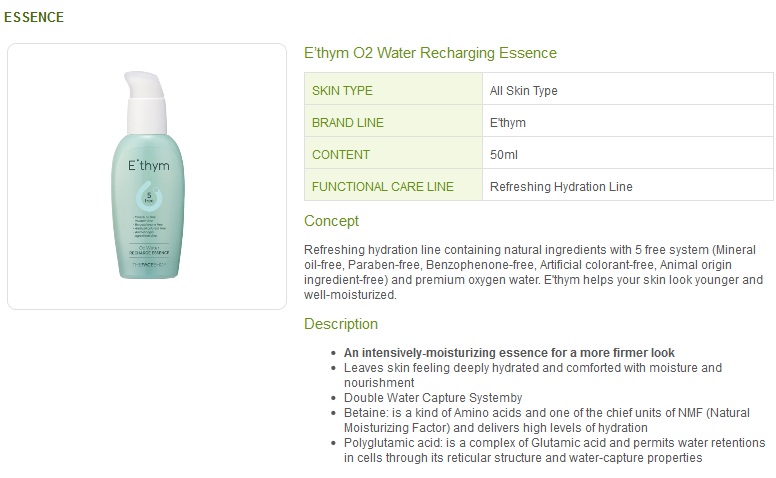 As for oily skin - if you think that "cream" tend to be too rich. You can try their lotion (which is in a bottle packaging)... more light as compare to the gel cream.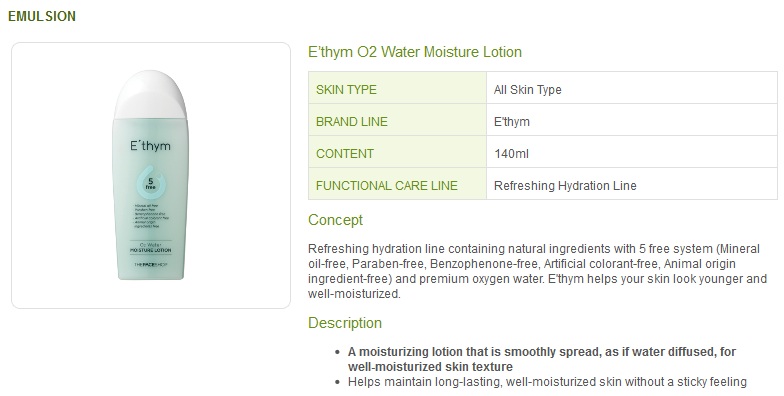 [Note: I did not try the lotion nor essence before, this is just a suggestion]
By the way, my sister is using the
E'thym Collagen water moisture lotion
and
Toner
(Liking it so far) Let me know if you want a review, I can ask my sister to do it (She have oily combination skin and her skin only agree with Korean Skincares).
Price : SD$22.90 [If I didn't remember wrongly]
I got this during the GSS 20% + 5%(for members)
Suitable for all skin types.
Available at all The Face Shop outlets.
Other The Face Shop posts::
http://www.everbluec.com/search/label/thefaceshop
The Face shop Singapore Page ::
https://www.facebook.com/thefaceshopsingapore
The Face Shop International Website ::
http://international.thefaceshop.com/english/thefaceshop/brand.jsp

My instagram ::
http://instagram.com/everbluec
My Facebook Page ::
https://www.facebook.com/everbluecmiwitch
Some information and images were extracted from [

Source

]