On 22nd July 2012, 12 of the biggest online labels in Singapore will come together in a fashion showcase like never before. Housed under the alliance called

Chic Kiss Love

, The Fashion Uprising will formalise the partnership among these 12 labels, which have earned a reputation among Singaporeans since the online shopping boom.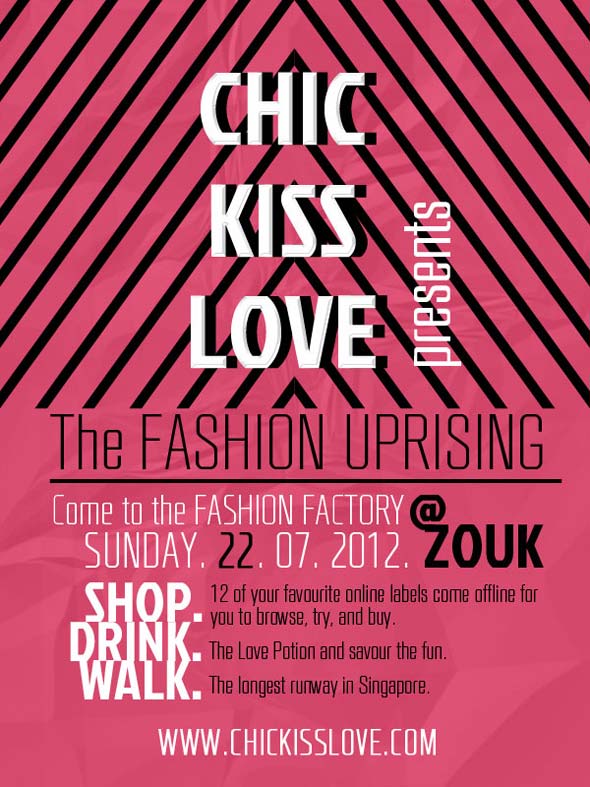 The Fashion Uprising will be held at Zouk where the 12 labels will proudly showcase their self-manufactured items and designs, for loyal fans and non-online shoppers alike to touch, try and buy.
THE FASHION UPRISING is organized by CHIC KISS LOVE, a collective of established e-commerce labels consisting of Dressabelle, Earl Grey Party, Foggiare, Hollyhoque, Missy Pixie, Momoteapots, The Closet Love, The Design Closet and The Stagewalk.
Shop for the latest fashions at affordable prices and experience your favourite online labels up close and personal. Beyond that, feast your eyes on the models as they take on the longest fashion runway in Singapore and you may be one of the lucky few to walk away with some fabulous prizes (to be revealed!) in this interactive runway show.
:
:
This event is free of charge and doors open to the public at 1pm.
The first 500 (non-media) attendees will be walking away with goody bags consisting beauty and cosmetic products as well as Zouk passes for free entry.
:
:
:
Venue::

Zouk (Zouk, Phuture, Winebar and Velvet Underground)
:
Date & Time::22nd July, 1pm-9pm(Special preview session for Media and Golden Ticket holders at 12pm-1pm)
"
Runway show::
The interactive runway show start at 3:30pm where they will be breaking the record of
Singapore's longest runway
, with their runway standing at approximately 650m, through the entire Zouk complex.
"
Clearance sale::
starts at 6:30pm -

Zouk will be transformed into a full fledged shopping arena - not the usual messy flea markets. This event revolutionizes the shopping experience with online labels as you will be able to see, try and touch their apparel on the event day. Each label will be housed in a pop-up store fully equipped with changing rooms and mirrors.
:
:
Check out the website for more information
http://chickisslove.com
"
:
Information was extracted from press email/website