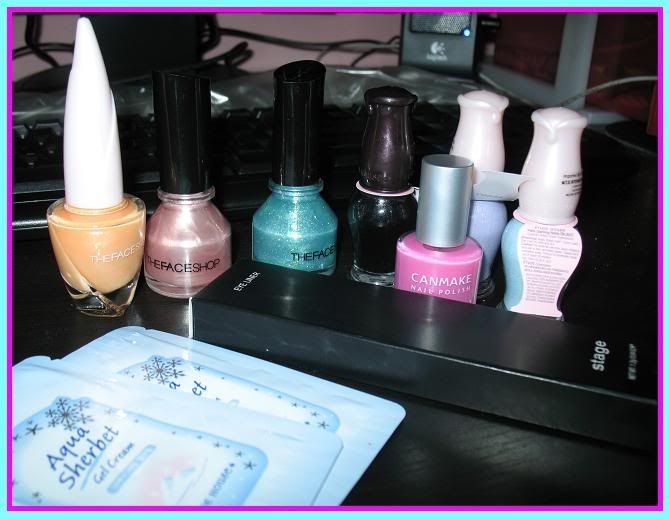 Yesterday, meet up with my gf for a short rest and relax shopping trip
I plan to get a blush(for my mama) and a pink nail polish(from canmake) didn't want to spend much cos I already spend way too much for this month!!(way way way too much!!!!)
But when I was at
Etude House
@ Plaza(while my gf was checking out the nail polishes) and I help myself too.. lolx In the end I got 3!!
- Petit Darling Nails in PP903 (lavender shade) S$2.50
- Petit Darling Nails in BL501 (pastel babyblue shade) S$2.50
- Mini Heel Pedicure 03 (A black shimmering shade) S$5.90
Don't ask me the different.... cos where I see they are same size, same texture, same bottle.. the only different is the top cover which is in dark taupe color... where the Petit one is in pink color. (You tell me the different, lolx)
And they gave me 2 packs of Aqua Sherbet Gel Cream (Which I just use the whole pack as a mask, I need SOS.. my face have been too dry for sleeping with AC on for the past week... damn weather)
@ Bugis
Stage
.. we check out their products.. In the end gf and me walk out with an eye linerl!! It's water and smudge proof... really.. I have swatches all over the back of my hand.. and I keep rubbing it and the color stay there perfectly not even a tiny smudge!!!!!!!
I bought the 07 Teal Theater (sorry the flash wash off the color.. should be abit darker)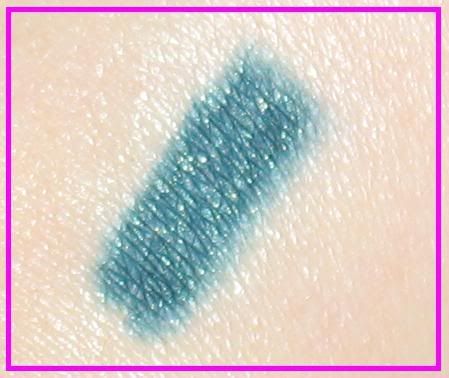 Finally Bought the pink canmake nail polish at
watson
S$7 (after 20% S$5.60)
Walk across to the
faceshop
.. yet.. I was lure in by their nail polish collection and amazing promotion
20% + 5%(member additional discount)
I walk out with 3 more where my bff got 2 more nail polishs!
- nail color in PK101 (champagne pink) $2.50 (after discount S$2.20)
- nail color in BL601 (Bubblegum blue with glitters) $2.50 (after discount S$2.20)
-nail color in OR201 (Peach) $7.90 (after discount S$6)